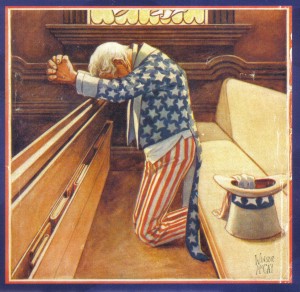 Monday Morning Music Ministry has been active, and growing, since the Spring of 2008.
Two things brought Rick Marschall to create this blog. The first was his desire for such a resource — a regular ministry that combines the Word, music, worship, encouragement, challenges, and spiritual discussion.
The second motivator was the aggregation of Rick's experiences and activities. His primary work has been in popular culture, and MMMM members will see references to entertainment and the arts. He has written books, interviews, and articles on several types of music… from country (four books), Baroque (a biography of Johann Sebastian Bach), jazz (interviews with Teddy Wilson, Jimmy McPartland, Joe Venuti, et al), and Gospel (interviews with George Beverly Shea, Cliff Barrows, Jake Hess, Bill Gaither, Joni Eareckson, et al). Writing and Production work on a PBS series (a project ultimately unfinished) was the immediate impetus — the 10-part documentary was to focus on American Christian music: traditional hymns, Gospel Songs, and sprituals. That music, and the stories behind the writing of Christian music, is now represented in Monday Morning Music Ministry.
Vistors to the site, and members, are encouraged to comments… and to request favorite music or performances. Usually MMMM will have messages with embedded links to YouTube performances. Periodically, the blog will offer longer performances for a deeper experience — anything from an interview with a CCM artist; a Passion by Bach; or a gospel-music concert.
Monday Morning Music Ministry also regularly appears on the excellent sites of Real Clear Religion ( www.realclearreligion.org ) and ASSIST News Service ( www.assistnews.net )